Please contact our Webmaster with questions or comments.
Copyright © 1999 Saul Coval Computers.
All rights reserved.

HIGH VOLT TEST 15KV
Connection for line test, Hand Handle & Ctrl Sw
---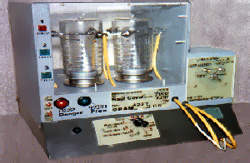 Description:
Fix Test Jig to make quick connections and High Voltage Tests (to 15KV) of special power supply transformers at mass production.
Technical Specifications:
Control and Test Box with HV contacts (20KV) connected to external Jacks through special wiring and HV test lights.
SKU: 0000-1311-SCORAM-15KV-23mA-09999

back to products