Please contact our Webmaster with questions or comments.
Copyright © 1999 Saul Coval Computers.
All rights reserved.

SOLDER MACHINE 02
Automatic Trafo Solder Machine for headers
---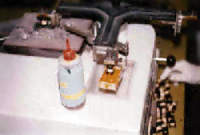 Description:
Consulting on programing automatic soldering machines and security at work.
Technical Specifications:
Auto Temperature Control of Transformer header soldering machine. Manual and Automatic handling services.
SKU: Technical Advice

back to products